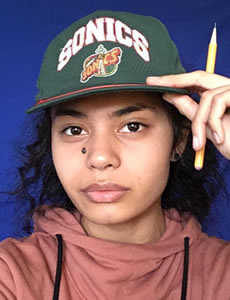 Azia Ruff
ifcayouth
Azia Ruff became ward of Washington state's foster care system at age 16. In the two years before legal adulthood, she was lucky to have had to change homes and social workers only twice. Living briefly in kinship care, Azia spent the majority of her time in care in a group home that was two towns away from her school, family and work. Thanks to the person-centered focus of her social workers and case managers Azia received the support she needed to complete high school early and move onto college, develop professionally to become a marketable employee and maintain a healthy connection to her birth family. She participates in the Foster Care to 21 program where she is able to simultaneously benefit from increased independence and continuing supports as makes her final preparations into adulthood.
Azia has the foster care system to thank for many of her life's milestones and achievements. She feels lucky for the opportunities being in the foster care system has granted her and has made a pledge to work to make safety and stability a standard for the care given to all Washington State's dependents. She serves as a Network Representative at The Mockingbird Society and youth advisor on the Passion 2 Action advisory council and has a hand in improving the culture of Washington's foster care system, within Children's Administration's practices and outside, through legislative policy changes. Azia has advocated for foster youth on local and national fronts with The Mockingbird Society and The National foster Youth Institute.
When she isn't working on improving the foster care system, Azia attends classes at Seattle Central Community College where she is earning her Associates Degree. The plan is to transfer to university to study Public Administration of some sort, while continuing to serve the community to give her education context as well develop professionally. There is a plan B to attend art school and learn cinematography, in the case university doesn't fit. She has studied the art of drawing since the age of 5 and spends her free time free-writing, working on her original comic series and enjoying peaceful moments in one of Seattle's small, hidden forests.
Becoming a member of the International Foster Care alliance is a major milestone in Azia's advocacy career. She is proud to accept opportunity to represent the interests of foster youth on a new platform and looks forward to see how this experience impacts her attitude and philosophy as a public servant.