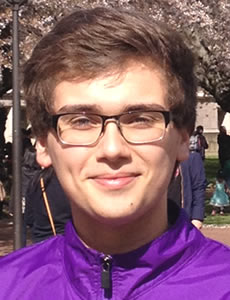 Daniel Lugo
tymer
Daniel Lugo has spent a little over three years in the Washington State foster care system. He was also born and raised in Washington State. After graduating from high school, he left for the University of Washington in Seattle. Initially, Daniel had little insight as to what sort of degree he wanted to get but half way through his sophomore year, Daniel decided to major in Political Science.
Daniel's experience in the University of Washington has been quite the journey. After the first quarter of his freshman year, Daniel was sure that he wanted to be an astronomer. The universe seemed so open to exploration and discovery, which intrigued Daniel very much. However, after taking science and math classes, Daniel found that he wasn't happy. Something felt missing. What he discovered is that he has a passion for helping others and everything else in the world around him. Nothing makes Daniel happier than to see a smiling face and knowing that he's made a positive impact on the world. With that passion realized, Daniel decided to major in Political Science to hopefully get involved in politics some day.
Currently, Daniel is still attending classes at the University of Washington while also working part time. In his free time, Daniel also enjoys playing video games, watching movies and spending time with his loved ones. The small things in life are what matter the most to him and for that reason, he likes a slower paced lifestyle.